Don't Get Left in the Cold: Why Regular Heating Maintenance Services Are a Must-Have!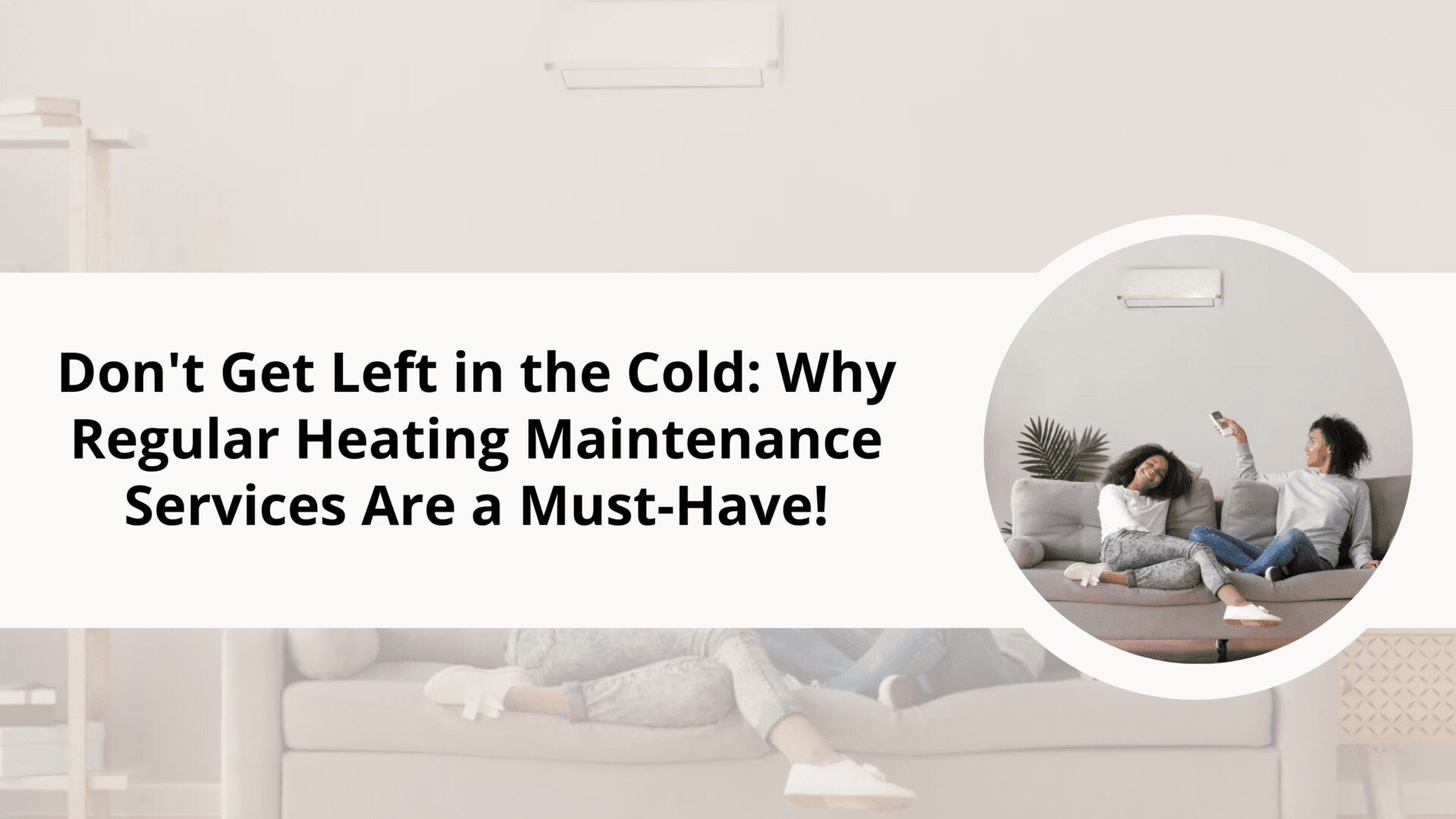 As winter approaches, no one wants to be left freezing due to a malfunctioning heating system. Not only does this make your home uncomfortable, but it could also be hazardous. Regular heating maintenance services help avoid such mishaps and guarantee your heating system functions optimally. This article outlines the advantages of regular maintenance services for heating systems and why they're essential.
Importance of Regular Heating Maintenance Services
Regular maintenance of your heating system is essential to keep it functioning optimally and reliably. An unmaintained heating system could develop faults that cause it to consume more energy than necessary, leading to higher energy bills. Furthermore, a malfunctioning heating system poses risks to everyone in the household with carbon monoxide poisoning being one major danger.
Types of Heating Systems
Heating systems come in various forms, such as furnaces, boilers, heat pumps and radiant heat. Each requires specific maintenance procedures so it's essential to hire an experienced heating maintenance service provider who can properly address your system's individual requirements.
Signs That Your Heating System Needs Maintenance
Some warning signs that your heating system requires maintenance include strange noises, unpleasant odors, uneven heating and increased energy bills. It's essential to pay attention to these warning signs and arrange for a heating maintenance service as soon as possible.
Benefits of Regular Heating Maintenance Services
Regular heating maintenance services are essential for homeowners who want to guarantee their heating systems run optimally, efficiently, and safely. Here are some key advantages of investing in regular maintenance:
1. Improved Efficiency
Over time, heating systems can become less efficient due to factors like wear and tear, dirt accumulation and neglect. By investing in regular maintenance services for your system, you can guarantee its peak efficiency – saving money on energy bills while reducing its carbon footprint.
2. Increased Safety
A poorly maintained heating system can pose a major safety hazard to your home and family. Potential issues like gas leaks, carbon monoxide poisoning, and electrical issues could arise if not regularly inspected and serviced. Regular maintenance helps identify potential safety hazards before they become serious issues.
3. Extended Lifespan
Maintaining your heating system on a regular basis can extend its lifespan and avoid expensive repairs or replacements. An HVAC technician can detect potential issues and fix them before they become major issues, ensuring that your heater lasts as long as possible.
4. Improved Air Quality
Dirty heating systems can circulate dust, pollen and other pollutants throughout your home, leading to poor indoor air quality. Regular maintenance on your system helps guarantee it remains clean and running efficiently – improving indoor air quality while decreasing respiratory issues for your family members.
5. Cost Savings
Investing in regular heating maintenance services may seem like an unnecessary expense, but it will actually save you money in the long run. By detecting and fixing problems early on, you can avoid costly repairs or replacements later on, plus ensure your system runs optimally so you save money on energy bills.
6. Peace of Mind
Perhaps the greatest advantage to regular heating maintenance services is the peace of mind they can bring. Knowing your system is running safely, efficiently, and effectively allows you to rest easy during wintertime while enjoying all the comforts of a warm home.
What to Expect During a Heating Maintenance Service
Selecting the correct heating maintenance and repair service provider is essential for guaranteeing your system receives all of the attention it requires to run safely and efficiently. Here are some important factors to consider when selecting a HVAC maintenance expert:
1. Experience and Qualifications
Look for a service provider with extensive experience and qualifications in the HVAC industry. Inquire about their technician's training and certifications, as well as the company's overall expertise.
2. Research the Company's Reputation and Reviews
To get an indication of customer satisfaction with a company, research its online reputation and reviews. Look for testimonials, ratings, and rankings on sites like Yelp, Google, or the Better Business Bureau.
3. Service Offerings
Make sure the company you select offers specific services like preventative maintenance, repair or installation. Inquire about their scope of offerings and whether they provide emergency support in case of a breakdown.
4. Pricing and Value
Compare pricing and value between various service providers to guarantee you're getting a fair price for the services you require. Look for companies with transparent pricing policies and detailed estimates.
5. Customer Service
Consider the level of customer service and support you can expect from the company. Look for a service provider who is responsive, communicative, and willing to answer all your queries and needs.
6. Warranty and Guarantees
Research the company's warranty and guarantees on services and products. Look for companies that provide comprehensive warranties, guarantees, as well as follow-up support and maintenance.
Regular heating maintenance services are critical for keeping your system operating safely and efficiently. By investing in preventive maintenance, you can extend the lifespan of your system, increase its performance, and avoid potential safety hazards. During a typical heating maintenance service, your technician will perform various tasks such as visual inspections and testing, cleaning/lubrication, necessary repairs or replacements if needed.
Accurate Zone Heating and Air Conditioning Inc is a reputable, experienced provider of heating maintenance and repair services in Agoura Hills Greater LA Area & Ventura County and its surrounding areas. Their team of highly-skilled technicians strives for exceptional customer service to guarantee your system runs optimally at all times.
Their services include preventative maintenance, which involves a detailed examination and cleaning of your heating system as well as any necessary repairs or replacements. Furthermore, they offer emergency response in case of breakdowns so you can be certain all you're heating needs will be taken care of promptly and professionally.